The Legend of Korra är en amerikansk animerad tv-serie, som hade premiär på kanalen Nickelodeon den 14 april 2012. Serien planeras ha 26 avsnitt uppdelade på två säsonger och är en uppföljare till Avatar – The Last Airbender som sändes på samma kanal mellan år 2005 och 2008.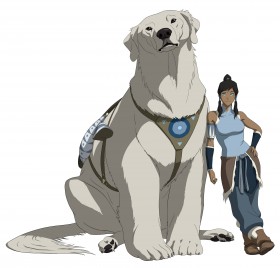 The Legend of Korra har ännu inte kommit till Sverige, därför rekommenderas den engelska kanalen Nickelodeon för alla otåliga Avatarfans, som har väntat så länge på en uppföljare! I korta ordalag ser berättelsen ut så här: Mer än 70 år har gått sedan det hundraåriga kriget tog slut och Avatar Aang skapade multinationella staden Republic City tillsammans med Eldnationens furste Zuko, för att alla bendare och icke-bendare från olika nationer skulle förenas i fred och välstånd.
Världen som serien utspelar sig i består i grunden av fyra olika nationer, i vilka vissa personer, bendare, kan bända och nyttja det element som är kopplat till det folkslag de tillhör. De fyra folkslagen består av Eldnationen, Vattenfolket, Jordriket, och Luftnomaderna. Avataren är den enda av alla människor som kan bemästra och bända de fyra elementen, då denne är världens beskyddare.
Efter år av framgångar och motgångar dör Avatar Aang. I samma ögonblick föds en ny Avatar, en liten flicka, vid namn Korra i den Södra Vattennationen. Redan under sin uppväxt behärskar hon de tre elementen vatten, eld och jord – förutsättningen för att kunna hålla nationerna i balans och fred.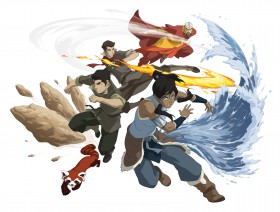 17 år gammal avslutar Korra sin avatar-utbildning hos Avatar Aangs yngste son Tenzin i Republic City. Missnöjet bland folk över ojämlikhet och kriminalitet i Republic City är enormt, och samtidigt pågår en massiv anti-bendar-kampanj bland Equalister under den maskerade ledaren Amon.
Animerade serien The Legend of Korra har en utomordentlig kvalité och skaparna har tecknat upp karaktärerna och storyn med stor tydlighet. Berättelsen innehåller allt från spännande äventyr till välgjorda bakgrundshistorier och starka och intressanta karaktärer. Man har hämtat en hel del inspiration från 1920- och 1930-talet, med den tidens historier, teknik, byggnader, klädstilar och tänkande. Storyn håller verkligen måttet och succén har varit enorm sedan sändningsstarten. Huvudkaraktären Korra är en ovanlig kvinnlig hjälte som hamnar långt ifrån stereotypen av de hjältinnor som funnits i många andra serier. Som Avatar, vars stora uppgift är att rädda Republic City och freden mellan bendare och icke-bendare, är hon fantastisk.