Att nämna en enda favoritfilm är som att nämna en enda favoritlåt. Det borde rimligtvis vara omöjligt. Men när det gäller filmer så är det dock ett enda svar som dyker upp i direktsändning i mitt huvud.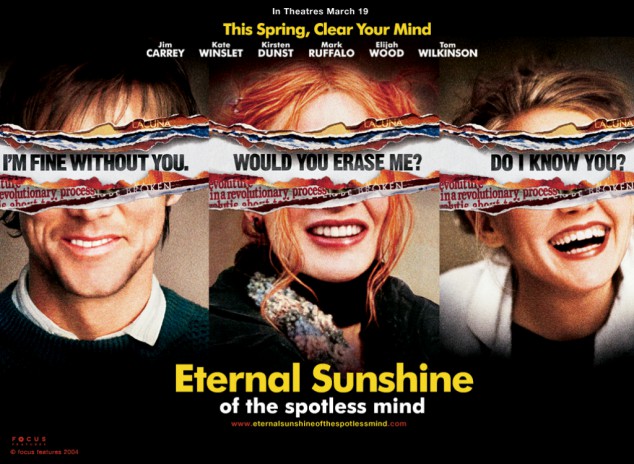 I filmen Eternal sunshine of the spotless mind får Joel (Jim Carrey) reda på att hans flickvän Clementine (Kate Winslet) har raderat minnet av honom och deras förhållande. Så han bestämmer han sig för att göra samma sak. Större delen av filmen utspelar sig sedan i Joels huvud, där alla minnen om Clementine och deras förhållande raderas i omvänd kronologisk ordning – från de sista till de första. Allt eftersom raderingen fortgår så börjar minnena bli ljusare och ljusare. Joel kommer ihåg vad han och Clementine kände för varandra från början och vill i panik stoppa raderingen. Tillsammans med Clementine flyr Jim till minnen från barndomen för att raderingsmaskinen inte ska hitta dem. Det är underbart vackra scener ackompanjerade av Jon Brions fantastiska musik. Filmen är väldigt intelligent upplagd. Den leker med kronologin för att vi som tittare ska uppleva samma sak som karaktärerna
Jag såg filmen första gången med en dejt. Vi rörde inte varandra under hela filmen. Efteråt blev jag kraftigt påmind om vad jag ville göra av mitt liv: konst.
Filmen är regisserad av Michel Gondry, en av världens främsta musikvideoregissörer, och bakom manuset står den egensinnige Charlie Kaufman. Filmen hade premiär våren 2004.