Har du någonsin undrat hur det skulle kännas att leva i en apokalyptisk värld, fylld med människor som väckts från döden och vill äta upp dig? Då är det här definitivt ett spel för dig. Du spelar karaktären Lee Everett ur ett tredjepersonsperspektiv. Med sig har han den charmiga tjejen Clementine som är 8 år, och hans förflutna lyckas komma ikapp honom snabbare än zombierna.
The walking dead uppstod som serietidning och var Robert Kirkmans första skapelse, men dess popularitet och det ökande intresset har lett vidare till både en TV-serie och datorspel. Förutom det första spelet och extramaterial till detta, finns en säsong två av spelet, och en tredje säsong skall komma ut senare i år.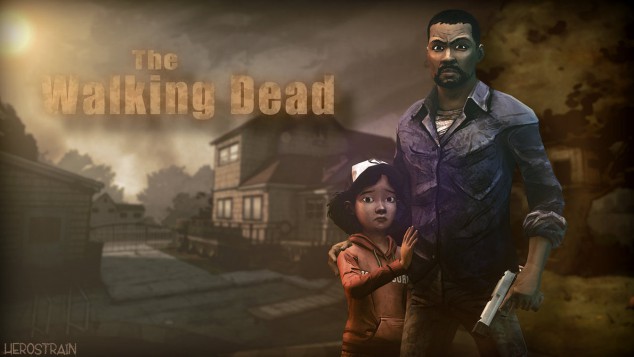 Säsong ett är uppdelat i fem olika episoder och varje episod kom ut med en månads mellanrum under 2013. Det här spelet handlar inte bara om att döda zombier, utan du får också uppleva människor i en apokalyptiskt värld. Du kommer att fråga dig själv om moralen finns kvar, om starkast överlever eller om zombierna kommer ta allting ifrån oss i slutändan ändå. Intriger skapas, spänningen ökar och karaktärerna du lär känna kommer få dig att stå inför tuffa beslut. Vad väljer du? Att bry dig om dig själv eller om dina vänner som kommer ha stor betydelse i slutändan. Om de överlever hänger mycket på dina egna beslut.
Jag trodde att jag skulle känna likadant som när jag började spela episod ett fram till den femte, men med många starka personligheter i en grupp där alla har en åsikt att dela, blandat med lite cliffhangers, står man inför många val man önskar att man kunde slippa.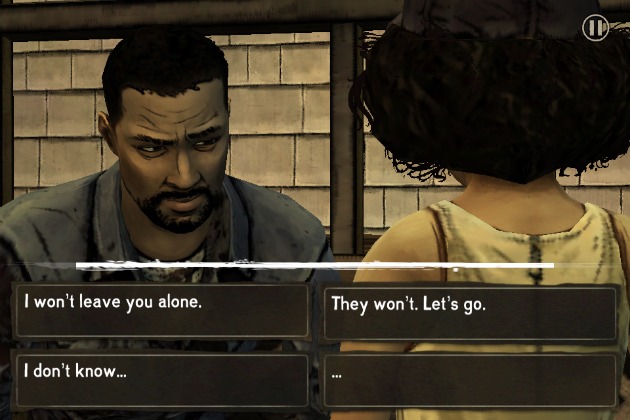 Jag fick först höra talas om spelet The walking dead genom en vän, och ett klick in på youtube och en trailer senare var jag fast. Jag har själv inte varit mycket för ett klicka-och-dödaspel. Vad som alltid har skapat intresse för mig är en bra berättelse och att själv få välja vad som händer i historien, vilket detta spel har lyckats med. The walking dead berättar mer än bara en historia. Du får följa intriger, skapa spänning och vara ett nervvrak genom hela spelet. Jag kände mig främst som ett förvirrat fån när jag insåg att 30 sekunder för ett beslut inte räckte, speciellt när konsekvenserna kom på en. Det är klart att man kan fuska och ladda om scenerna, men roligare är att se vad slutresultatet blir av en tabbe – är det fortfarande fel beslut i slutändan, eller ledde det till något bra? Var redo.