Anarkia är en anarkistisk kvinno- och transseparatistisk D.I.Y. (do it yourself) sambatrumgrupp i Göteborg som vill låta högt, ta plats, demonstrera och dansa på gator och torg. Med kreativ protest som konfrontationsform uttrycker gruppen sin ilska och sitt motstånd mot alla former av diskriminering och förtryck.
Anarkia är kvinno- och transseparatistiska, vilket betyder att alla som identifierar sig som något av dessa får vara med. Gruppen vill skapa en trygg plats för just kvinnor och transpersoner att peppa varandra och dela erfarenheter på. De kräver sin rättmätiga plats i det offentliga utrymmet genom dans och musik!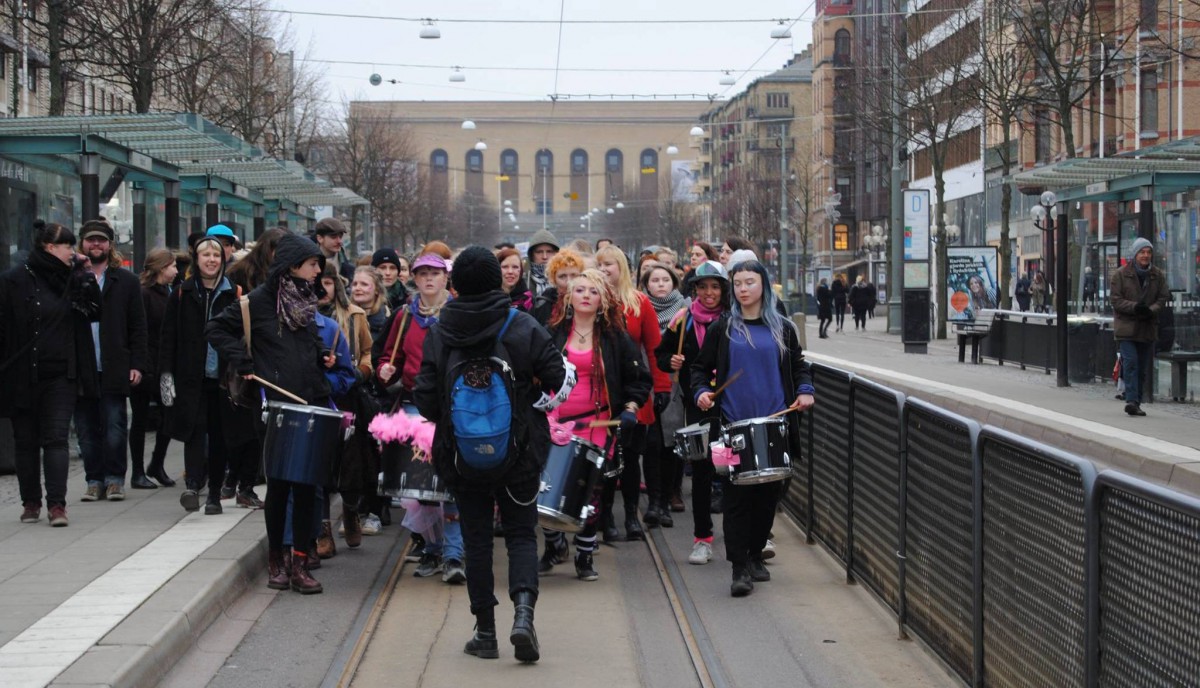 Gruppen är en del av ett större nätverk med samma värderingar; Rhythms of Resistance. Tanken med nätverket är att få människor att sprida sitt budskap över hela världen. På nätverkets webbsida kan du hitta olika låtar och beskrivning hur du spelar dem. Du hittar även dirigenttecken för olika instrument, takter, danser och annat som behövs för att framföra fantastiskt svängiga låtar som får människor att ryckas med i dans. På detta sätt kommunicerar alla band i nätverket genom ett gemensamt språk, vilket gör att du kan åka till en annan del av världen och spela med andra medlemmar i Rhythms of Resistance.
Det fantastiska med D.I.Y. är just att du ska kunna skapa själv. En tanke är också att du inte ska låta bristen på pengar inaktivera och isolera dig. Att starta ett band och göra egna instrument blir D.I.Y. dubbelt upp! Du behöver inte heller kunna spela något innan; medlemmarna hjälper och lär varandra. När Anarkia startades var det många som inte kunde spela, men med hjälp av Rhythms of Resistance hade de lätt att lära sig.
Anarkia är, som du kan höra på namnet, en anarkistisk grupp och deras struktur är motståndspolitisk i sig. Det är en horisontellt styrd grupp, alltså utan hierarkier. Ansvarsområden roterar för att främja kunskapsutjämning och alla beslut fattas tillsammans. Varje medlem har veto. Genom detta måste gruppen genom dialog komma fram till beslut som alla kan acceptera, men det handlar inte bara om att kompromissa, utan också om att föra en respektfull dialog mellan jämlikar.