The Drop är en dramathriller baserad på novellen Animal Rescue, skriven av Dennis Lehane. Författaren har tidigare skrivit böcker som filmatiserats, till exempel Shutter Island och Mystic River. Precis som hans tidigare verk håller denna film en tydlig röd tråd.
I filmen, regisserad av belgaren Michaël R. Roskam, ser vi Tom Hardy (Bob) få sällskap av svenska Noomi Rapace (Nadia), som har fått figurera i roller på den internationella scenen på löpande band. Vi ser även James Gandolfini (Marv) spela en övertygande roll i filmen, en roll som skulle komma att bli hans sista.
Filmen utspelar sig i ett grått och dystert Brooklyn, där vi får följa den ambivalente Bob Saginowski som arbetar som bartender på Cousin Marv's Bar. Bob kommer i kontakt med Nadia när han av en slump passerar förbi hennes bostad efter ett sent arbetspass. Precis intill, i en soptunna, hittar han en svårt sargad och övergiven hundvalp. Det är genom hundvalpen som Bob och Nadia först stiftar bekantskap med varandra. Nadia, som verkar något paranoid, har varit med om en del och hennes förflutna ska så småningom knyta samman henne, Bob och hunden.
Cousin Marv's Bar, som tidigare ägdes av Marv men som nu fallit i grovt kriminella tjetjeners ägo, ligger i ett ganska slitet och hårdkokt område. Det är en så kallad "drop bar", där pengar från den undre världen regelbundet lämnas för tvättning. När baren en dag blir rånad av två ligister,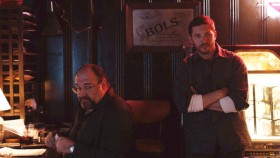 vilka dumdristigt nog väljer att se förbi det faktum att ägarna nog är de sista man ska stjäla något ifrån, tar filmen en vändning. Bob och Marv känner nu pressen från den tjetjenska maffian och måste se till att få tillbaka pengarna – men i vems ficka har de egentligen hamnat?
Filmen följer i mångt och mycket novellen Animal Rescue. Dennis Lehane har som tidigare nämnts skrivit flera texter som senare filmatiserats, men detta är första gången han också har fått vara med och skriva manus till en filmatisering, och han visar upp fin förmåga. Dialogen är av hög klass, och även om filmen stundtals känns ganska seg och brister lite i känsla är det just dialogen som väger upp det hela. Om man är bekant med de filmer som Lehane tidigare legat bakom så vet man att han har en förkärlek för det mörka och oförutsägbara. The Drop är precis en sådan film som, trots att den stundtals känns något långsam, fängslar tittaren och sakta intensifieras till den grad att man bara måste sitta kvar för att få se twisten på slutet.