Mottagaren av Nobelpriset 2013 i litteratur bjuder i Tiggarflickan på en underlig resa i en persons värld, inom spannet av 40 år. Vi får följa huvudpersonen Rose från hennes uppväxt i slumkvarteret West Hanratty i Kanada till hur hon tar sig ifrån det.
Originaltitel: The Beggar Maid
Författare: Alice Munro
Utgivningsår: 1978 på engelska, 2013 på svenska
Genre: Fiktion
Förlag: Bokförlaget Atlas
ISBN: 9789173894227
Berättelsen börjar med missnöje, något som kommer att genomsyra hela boken. Den hånfulla beskrivningen av karaktärerna runtom huvudpersonen, agget Rose känner mot slummen och hur livet tedde sig där, gör att boken generellt är svår att läsa. Rose är helt enkelt en missunnsam person, något som kan vara svårt att knyta an till. Man får dela hennes resa med styvmamman Flo, som hon tillsammans med spyr galla över de andra invånarna och hur de uttrycker sig.
"What is so wonderful about her?" asked Flo, and immediately answered herself. "Nothing. She is a far cry from good-looking. She is going to turn out a monster of fat. I can see the signs. She is going to have a mustache, too. She has one already. Where does she get her clothes from? I guess she thinks they suit her."
Rose did not reply to this and Flo said further that Cora had no father, you might wonder what her mother worked at, and who was her grandfather? The honey-dumper!"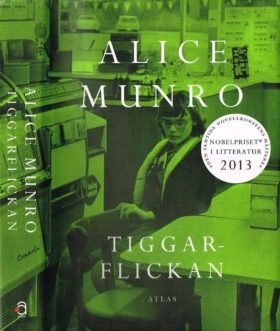 Jag undrar hur människor kan vara så pass negativa och elaka, då främst huvudpersonen. Styvmamman Flo karaktäriseras av ett ständigt flöde av skvaller och barskhet. Rose själv försöker att inte sugas in i detta, men tänker likväl i samma banor. Deras dynamik består av bråk och syrliga kommentarer, något som får en att tro att de hatar varandra. Samtidigt är detta enda sättet de kan kommunicera på. Funderingar uppstår om att detta ständiga kiv är det enda språket de kan, något som Rose senare kommer fortsätta att anamma; dock med en genomskinlig yta av vänlighet gentemot de människor hon möter i sitt vuxna liv.
Jag funderar på om denna, enligt Rose, lägre klass svåra liv och otillräckliga vardag är en parallell till huvudkaraktären själv. Är även Rose otillräcklig och för evigt fast i denna misär, trots att hon fysiskt sett fortfarande inte befinner sig på samma plats i vuxenlivet?
Genom boken vänjer man sig successivt med Roses karaktärsdrag. Man ser nästan fram emot hennes nästa omoraliska handling, och till slut sitter man där igen och fnyser till av igenkänning. Hon är ett förkroppsligande av de saker vi alla tänker på, men aldrig gör eller säger. Munro väljer att framhäva detta till sin spets.
Handlingen är tragglig att ta sig igenom på grund av ovanstående pessimism. Det som räddar historien är det fantastiska språket som Munro använder sig av. För de som uppskattar vackert och intrikat språk, är detta en bok som säkerligen kommer falla en i smaken. De som vill följa en omoralisk persons resa genom livet och uppleva denna infallsvinkel av att förtälja en historia, har i denna roman chansen.
"Flo crawls underneath, scrubbing with the brush and wiping with the rag. Her legs are long, white and muscular, marked all over with blue veins as if somebody had been drawing rivers on them with an indelible pencil. An abnormal energy, a violent disgust, is expressed in the chewing of the brush at the linoleum, the swish of the rag."
Av egen erfarenhet, då denna bok blev vald i en bokklubb, var det inte ett lyckat beslut. Jag var den enda som lyckades ta mig igenom boken, möten ställdes in och bokades om. Alla var eniga – den är svårläst. Inte på grund av språket, utan på grund av att alla ogillar huvudpersonen. Det är med lättnad i hjärtat som jag lägger ned den färdiglästa boken. Jag vill tacka Rose och Munro för den korrumperade resa de låtit mig följa med på. Men tyvärr kommer jag inte att sakna Rose.