Lady Gaga och Bradley Cooper spelar karaktärerna Ally och Jack i filmen A Star is Born, som kom ut i höstas på biograferna i Sverige.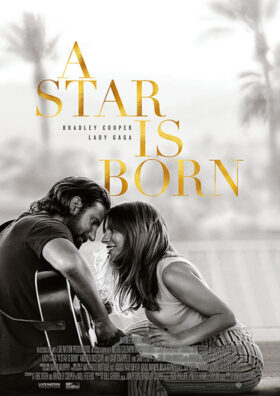 Så. Nu har jag sett den omtalade filmen A Star Is Born, som många redan har sett. Lite sent i mitt fall kanske, men bättre sent än aldrig som de brukar säga. Filmen handlar om Ally, som är less på sitt jobb som servitris. En gång i veckan sjunger hon i en bar som drivs av drag­queens. En kväll kommer artisten Jack dit, och han blir genast hänförd av henne. När de träffas efter Allys show bjuder han in henne till en av sina spelningar. Inbjudan leder till att de sjunger en duett, som sprids på Youtube. Ally blir en mycket eftertraktad artist, och fångas snart upp av en musikproducent. Jack visar henne med andra ord en helt ny värld.
Historien bakom filmen tycker jag är väldigt fin, och att Lady Gaga spelar en av huvudrollerna gör den inte mindre sevärd. Ally och Jack är varandras motsatser; Ally är lite tillbakadragen medan Jack har ett stort själv­förtroende. Jack är som en älskvärd teddybjörn. Senare i filmen kommer det även fram att Jack har skrivit kärleks­dikter om henne, vilket gör karaktären än mer älskvärd. Dock så kämpar han med ett alkoholmissbruk som påverkar hans beteende både i jobbet och privat. När de träffas lockar Ally fram en sida hos honom som många av hans nära inte sett på länge. Detta gör det hela förtjusande, liksom att hon inte slutar tro på honom, på hans förmåga till att förändras till det bättre och att hon alltid finns vid hans sida även genom svårigheterna.
Den här filmen visar mycket på musikbranschens baksida. Efter att Jack har visat på ett opålitligt beteende under en lång tid så slängs han ut ur denna värld, medan Ally når framgång och uppfyller musikproducentens önskningar om en mainstreamartist. Detta skapar en konflikt mellan Ally och Jack och leder till att han faller tillbaka i gamla mönster.
Musiken i filmen är väl framförd. Låtarna Shallow och Always Remember Us This Way gör mig mycket rörd. Två verser ur låten Shallow säger mycket om Allys och Jacks svårigheter i livet.
Tell me somethin', girl
Are you happy in this modern world?
Or do you need more?
Is there somethin' else you're searchin' for?

Tell me something, boy
Aren't you tired tryin' to fill that void?
Or do you need more?
Ain't it hard keepin' it so hardcore?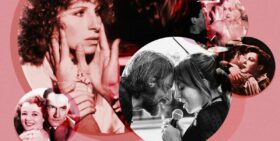 Nu finns det faktiskt fyra versioner av denna film; originalet från 1937, den andra från 1954, den tredje från 1976 och denna senaste från 2018. Jag tycker att varje film är perfekt för sin tid. Alla filmerna har givetvis en hel del likheter. Karaktärerna har liknande namn, och de går samma öde tillmötes. Bland annat blir den kvinnliga karaktären känd, vilket kortfattat är den huvudsakliga handlingen. Något som skiljer dem från varandra är att den första utspelar sig i Hollywoodmiljö, den andra i musikalmiljö och den tredje i musikbranschen, precis som den fjärde och senaste.
Jag ger denna film 5/5 stjärnor.