Det är fullt med folk på Götaplatsen denna Kulturkalasets första kväll. Hiphop-kvartetten Looptroop Rockers ska göra sin cirka sextionde konsert under den pågående turnén och är för dagen helt klädda i rött. Kvällen till ära har de även bett att få konstnären William Sweetloves konstverk Cloned Pudel, som under kalaset står på Götaplatsen, i samma färg.
Jag hade inte ens tänkt besöka Looptroops spelning, men då mitt förstahandsval visade sig vara av lägre kvalitet än väntat gav jag dem ändå en chans. Jag har i princip inte lyssnat på gruppen sedan deras debutskiva A modern Day City Symphony kom ut 1999, en skiva som fortfarande är en av de absolut bästa inom svensk hiphop. Uppföljarna är dock av sämre kvalitet även om den andra skivan, The Struggle Continues, går att lyssna på. Kort och gott är jag inte längre något stort Looptroop-fan så jag hade inga större förväntningar.
Publikjubel och nostalgi
Truppen inleder med en låt jag inte känner igen, troligtvis från den senaste plattan Professional Dreamers. Jag som inte har hört skivan gissar att de mer klubbigt dansanta låtarna är från det släppet. DJ Embee drar sedan igång ett långt beat-medley och när introt till "Long arm of the law" börjar ljuda ur högtalarna är publikjublet ett faktum. Supreme lägger sin vers från låten och jag står och rappar med för fulla muggar. Nostalgilyckan blir dock kort då klassikern snart blir avlöst av nästa låt.
En bit in i konserten spelas ett gäng instrumentaler av den amerikanska hiphop-duon Gangstarr och de tre rapparna förädlar dem med några verser. Guru, som var frontfigur och rappare i duon, avled tragiskt efter en hjärtattack 2010 och truppen passar på att hylla den bortgångne legenden. Som väntat blir det inte många klassiker men självklart går det alltid att titta på Looptroop. Supreme är som vanligt en krutdurk, Cosmic är anonym och Promoe en laidback kung. Så som det alltid har varit. Senare gör även den Göteborgsbaserade reggae- och dancehalltrion Serengetti entré och förgyller konserten med sina röster.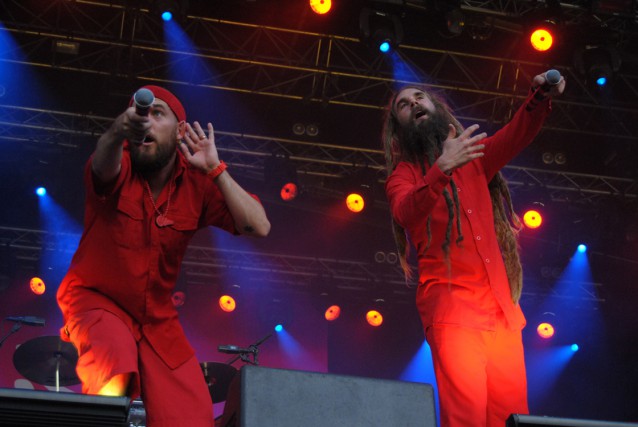 Det blir ändå en småtrevlig stund med lite allsång på Götaplatsen denna tisdagskväll. Hiphop-veteranerna Looptroop kan sin sak och några låtar jag inte hört på länge väcker dessutom viss nostalgi. Man kanske någon dag ändå bör rota fram den där andra plattan och lyssna på vad som finns kvar av det som en gång var Sveriges bästa hiphopband.