Polly Stenham var bara 19 år när hon skrev That Face, en pjäs om en dysfunktionell familj på gränsen till sönderfall. Pjäsen mottogs väldigt väl i England, där den sattes upp för förta gången 2007 på Royal Court Theatre. Polly Stenham blev flerfaldigt belönad för pjäsen och säger själv att startpunkten var att "få skriva om en klass människor som hon inte hade sett representerad i teatern." Nu har pjäsen översatts till svenska och spelas på Göteborg Dramatiska Teater.
Teater: Göteborgs Dramatiska Teater
Titel: That Face (manus Polly Stenham)
Regi: Anna Hjertén Runefelt
Medverkande: Mia Eriksson, Elisabeth Falk, Brynhildur Þórarinsdóttir, Hanna Ullerstam, Lars Wik, Martin Östh
Längd: 2.30 tim
Tidpunkt: Se hemsida för spelkvällar. Spelas t o m 4/5
Det är med en känsla av obehag i kroppen som jag åser hur pjäsen tar sin början i en invigningsceremoni på ett flickinternat som spårar ut. Därifrån förflyttas vi till en dekadent lägenhet, där mor och son ligger och sover i samma säng. Vinflaskorna och pillerburkarna ramar in scenen tillsammans med incestantydningarna. Flickan, som varit med i invigningsceremonin, blir tillfälligt relegerad och kommer snart hem till sin familj, modern och sonen. Relationen mellan dotter och mor har aldrig varit bra.
– Du får inte plats här, säger mamman, ständigt rökandes eller sippandes på ett vinglas i sovrummet. Någonstans i periferin finns också pappan som flytt fältet och startat en ny familj i Hong Kong. Nu krävs ändå hans närvaro och han är på väg hem till Sverige. Sonen försöker desperat att hjälpa mamman med alla hennes livsproblem innan pappan kommer. Han har gett upp sitt eget liv för att laga mammans problem, ser det som sitt kall att hjälpa mamman i första hand. Dottern får till slut faderns ekonomiska hjälp att inte bli relegerad.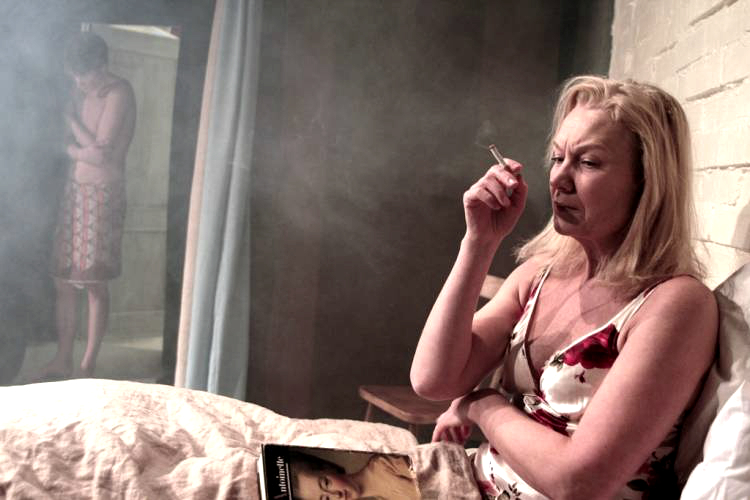 Människorna i pjäsen talar ständigt förbi varandra till den gräns att det känns frustrerande att sitta och titta på det hela. Ibland känns pjäsen lite väl utdragen och kunde kanske tjäna på att kortas ner lite. Skådespeleriet är oklanderligt och speciellt Martin Östh, som spelar sonen, växer i ett antal olika skepnader under kvällen. Allt för att vara mammans nyckfullhet till lags. Ljussättningen är fantastisk. Kallt och avklätt och ärligt lyser den starkt upp scen efter scen. Musiken i början och slutet av pjäsen är också mitt i prick.
Att pjäsen är skriven av en 19-åring, får en att tro att det ligger en del egna erfarenheter bakom pjäsens uppkomst. Utan att ha sett den engelska versionen kan jag konstatera att pjäsen funkar alldeles utmärkt även förflyttad till Göteborg och till det svenska språket.