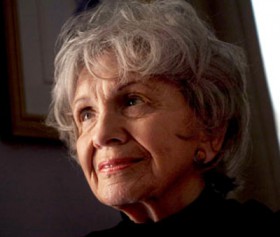 Äntligen! Svenska Akademien tillkännagav för en stund sedan att årets Nobelpris i litteratur tilldelas den kanadensiska novellförfattaren Alice Munro. "Den samtida novellkonstens mästare", löd en ovanligt kort motivering.
Intervjuad av P1 utvecklar ständige sekreteraren Peter Englund hur Munro och den innehållsliga kärnan i hennes författarskap kan beskrivas: "En antropolog som arbetar med en väldigt speciell del av Kanada, som är hennes huvudsakliga fält; det som kallas sydvästra Ontario – där hon med en stor exakthet skildrar en vardagsvärld, en till det yttre väldigt förutsägbar och stilla värld, men som samtidigt är en portal till en inre värld, med motsägelser, tystnad, längtan och mörker. Där det finns stor dramatik, men all den stora dramatiken äger för det mesta rum inne i människan."
Alice Munro är född den 10 juli 1931 i Wingham, Ontario (Kanada), och har sedan debuten 1968 med novellsamlingen Dance of the Happy Shades hållit fast i novellformen som konstart och utvecklat, eller kanske snarare invecklat läsaren med en beundransvärd konsekvent konstambition. Otippat, men ett glädjande val. Det är ju bra att Svenska Akademien med detta även uppmärksammar novellkonsten, en litteraturgenre som börjar få allt större rum.
Text: Håkan Kristensson