Göteborgsoperans Northern (de)Lights är en sammansättning av fem olika dansverk med mycket olika koreografisk stil inspirerat av säsongens tema Mind & Spirit. 25 skickliga dansare från GöteborgsOperans danskompani medverkar i föreställningen som bjuder på alltifrån musik till videokonst.
Föreställningen inleds med Pedro Goucha Gomes From Far to Deep som präglas av en rå, klaustrofobisk stämning. 3 nakna, rödbrända kvinnokroppar rör sig mycket långsamt framför ett kollage av röntgenbilder. Vid sidan av dem gestaltar sig en iskall, blek kvinnokropp som kontrasterar mot den brännande stämningen i scenrummets mittpunkt. Formspråket är groteskt och dansarnas obehagliga ansiktsuttryck förstärks i relation till de kraftfulla bakgrundsljuden.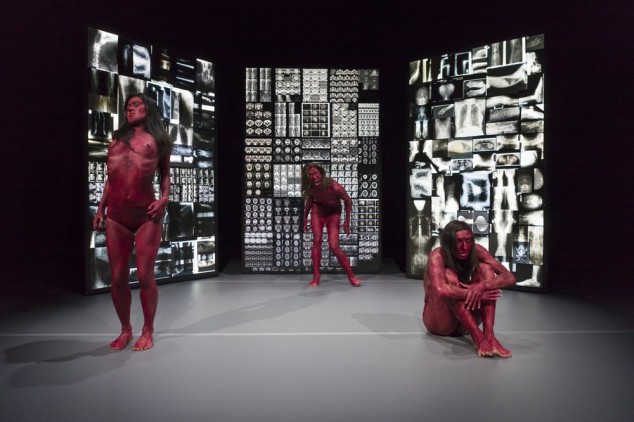 Därefter har vi Felix Landerers zombieinspirerande all-knowing, fluorescent and biting. Fem dansare i blå kostymer rör sig passionerat och elegant likt ett fiskstim. Jag får inga associationer till zombies, men dansverket berör, inspirerar och fascinerar. Verket innehåller intima rörelser och ett fantastiskt samspel mellan dansarna. Kontrollerande och frigörande på samma gång.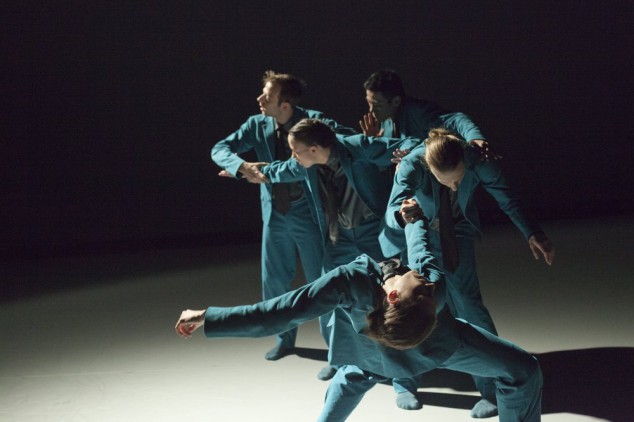 Min personliga favorit är Charlotta Öfverholms The Universal Solvent, som uttrycker en poetisk känsla som för tankarna till magisk realism. Deras klädsel påminner om intagna på en psykmottagning och deras rörelser växlar mellan dysfori och eufori. Dansarnas lek med virvlande snödrivor är oerhört stämningsfylld och vacker.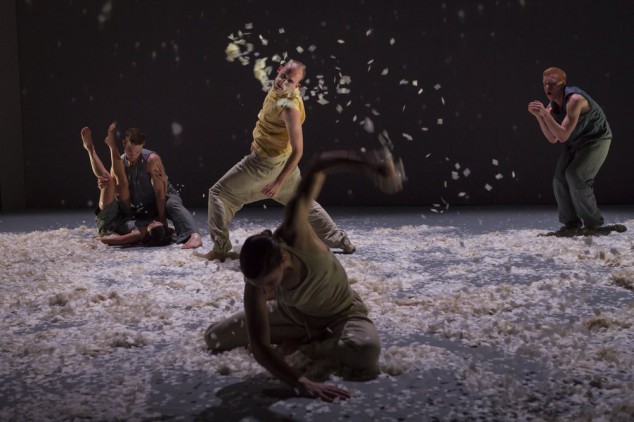 Ingun Bjørnsgaards Orfila är inspirerad av Strindbergs Inferno. Dansarna är klädda i svarta jackor och scenrummet fylls av ljud från en ensam cello. En kvinna läser ur en bok och sitter i en stor glaskula som för tankarna till Melvin Sokolsky och Salvador Dali. Ljuset ger vackra skuggeffekter som lyfter fram dansarnas rörelser.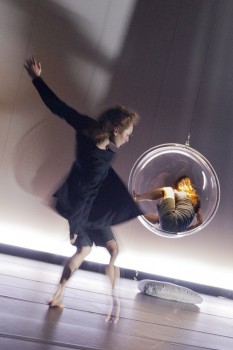 Avslutningsvis får vi se Peter Svenzons Frekvens. Det märks tydligt att detta är Svenzons verk. Det känns igen genom den kraftfulla koreografin och hur han väver samman flera olika konstformer; dans, video, intervjuer och egenkomponerad musik. Tiden är en aspekt som lyfts fram och det blir otroligt effektfyllt när vi får se hur tiden går fortare och fortare för att sedan upplösas i takt med dansarnas kroppar.
Föreställningen Northern (de)Lights spelas t.o.m. 7 maj
Foto: Jubal Battisti, Tilo Stengel