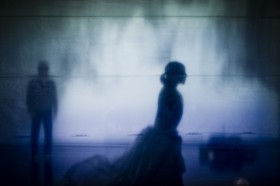 I dansföreställningen I remember gestaltas fragment av minnen. Som drömmar som inte riktigt går att ta på eller som mer konkreta i form av berättelser, bilder och samtal med publiken. Ett plastskynke hänger som en ridå framför scenen, och under föreställningens inledning får jag intrycket av suddiga drömmar. Dansarna rör sig på andra sidan plasten och man kan bara se dem svagt, de är mest skuggor.
Peter Svenzon, som har gjort koreografin och musiken, är ledaren för Art of spectra. Han skapar dans med kroppens förmågor i fokus. Koreografin i hans verk är fysisk och krävande och nästan lite våldsam. Det förekommer inga stereotypa könsroller, utan kvinnor och män lyfter, kastar och bär varandra. Koreografin är inspirerad av bland annat breakdance, kampsport, klassisk och modern dans.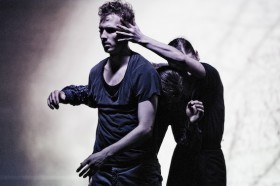 Art of spectra blandar in många konstformer i sina produktioner. Det är dans, lite teater, musik, videor och bilder, vilket är roligt, men när till exempel olika bilder av ärr (som ju är en form av minnen), och korta texter visas på väggen bakom dansarna tar bilderna över fokus och jag glömmer för ett ögonblick bort att dansarna är där. Art of spectra jobbar mycket med att minska avståndet mellan artisterna och åskådarna och valet av teaterrum är bra med tanke på detta, eftersom scenen inte är enskild och upphöjd utan liksom flyter samman med publiken.
I remember är en helhetsupplevelse, med dans, musik, ljus och videokonst. Föreställningen är andra delen i en serie om tre av performancegruppen Art of spectra, och gästspelades på Folkteatern i april. Den tredje och avslutande delen sätts upp på Dansmuseet i Stockholm i höst. Koreografen Peter Svenzon är även aktuell tillsammans med andra nordiska koreografer i föreställningen Northern (de)Lights som spelas på GöteborgsOperan fram till 7 maj.