Imorgon drar årets upplaga av Way Out West igång. Redan ikväll finns det möjlighet, att för oss som inte kan hålla oss ett dygn till, se grymma live-akter och dansa oss svettiga i sommarvärmen. Aspekt har självklart koll på de bästa förfesterna!
Djungeltrumman arrangerar en WoW-förfest på Villan i Stan, Tredje Långgatan. Som besökare kan en vänta sig bbq, bra dj:s bakom skivspelarna, ekologisk öl och finaste hänget! Det lär bli fullt så det är rekommenderat att komma tidigt, dörrarna öppnar kl 18.
Glöm ej att OSA: blogg.djungeltrumman.se
Skivbolaget Luxury ställer till med förfest på Jazzhuset. Kritikerrosade Alice B står på scenen, och medlemmar ur Makthaverskan kommer att stå i DJ-båset som de även delar med Amy & Hilda och Magnus Westergren.
Portarna slås upp kl 22 och festen pågår till kl 03. Det är 18 år i dörren som gäller och har en ett WoW-band runt handleden så kostar det 60kr, annars 80kr.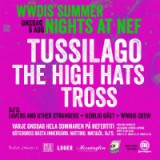 What we do is a secret ställer till med en stor fest på Nefertiti, där inte mindre än tre band kommer stå på scen. Klubben öppnar kl 21. Först ut på scen är Tross runt kl 23. Därefter kommer The High Hats inta innergården där de kommer framföra låtar från deras album "And Then Came Cancer" i en akustisk tappning. Någon gång efter midnatt tar Tussilago över scenen. Nefertitis fantastiska innergård kommer bl.a. få besök av DJ-kollektivet Lovers And Other Strangers.
För den som blir hungrig under småtimmarna kommer möjligheten att få tag på utmärkt nattamat att finnas då Burrito Bros kommer att finnas på plats.
Klubb Loco på Bengans kommer att ha förpepp mellan kl 18-23. Runt kl 21 kommer IKHANA & Nibla inta scenen. Kvällens Dj Julia Pugsi, en av arrangörena bakom klubben Cake, kommer att spela hip-hop och r'n'b — av bästa sorten.