Stephen Patrik Morrissey är ute på turné och stannade på tre ställen i Sverige. Den 12 november spelade han på Lisebergshallen. Aspekt var där för att se honom.
Morrissey, som nyligen berättade om sin cancersjukdom i en spansk tidning, f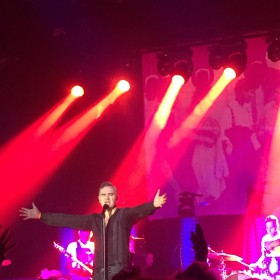 ick sina fans att frukta det värsta. Kan detta vara hans sista skivsläpp och turné? Men mer om sjukdomen än att han genomgått behandling berättade han inte. Nya skivan heter World peace is none of your business och redan efter tre veckor drogs skivan tillbaka efter dispyt med skivbolaget.
Morrissey, som är känd för sina starka åsikter, slutar aldrig att provocera och agera för det hans hjärta brinner för. Även spelningen på Lisebergshallen väcker starka känslor. Vi får se videos på tjurfäktningsmassakrer och de värsta bilderna från köttindustrin.
Spelningen som egentligen skall börja 19.30 inleds med en timme av videoklipp och musikvideos. Först efter 20.30 kommer Morrissey och bandet upp på scen. Han inleder med en gammal Smithslåt, The Queen is dead. Morrissey, som numera turnerar med ett gäng rockgubbar, dränks ofta i den rockiga ljudbilden. Låten är som förbytt och Johnny Marrs känsliga gitarr, som gick så bra ihop med Morrisseys sång, är nu istället ett gitarrskrammel där Morrisseys röst inte alls kommer till sin rätt. Detta rockiga sound fortsätter spelningen igenom och förtar en stor del av Morrisseys charm. Visst finns det ögonblick då hans storhet lyser igenom, som i de gamla låtarna Suedehead och Everyday is like sunday.  Men spelningen som helhet saknar mycket av det man önskar höra som ett fan av Morrisseys äldre musik. Dock har denna nya riktning i hans musik också sina höjdpunkter. Som i förstasingeln på albumet World peace is none of your business som gör sig bra även live.
Så här i efterhand ska väl vi som var där ändå vara glada att vi fick se honom när han var på bra humör. Värre var det för dem i Warszawa, då han efter trettiofem minuter förklarade för publiken att han skulle berätta något för dem och fick som gensvar från en i publiken att sluta prata och börja sjunga. Responsen från Morrissey var i sin tur att lämna scenen och avsluta spelningen.