A little while ago, I wrote about some of the things you could do in San Francisco and the neighbouring region. Cities and towns aside, what I purposefully omitted was the varied and readily available natural areas that this corner of the world has to offer.
California being vast in latitude, encompasses beaches, rocky coastlines, fields (agricultural and otherwise), deserts, forests and the Sierra Nevada mountain range. This is a beautiful place regardless of where you choose to go. One place, however, that warrants a special mention is Yosemite National Park. Many might recognise the name Yosemite, as well as its famous cliff El Capitan, as the two latest OS releases from Apple. There is, however, much more to it. Established in 1890, it is one of the oldest national parks in the U.S. as well as being a UNESCO World Heritage Site. What follows is a personal account of my experiences there, both external and internal.
TIP! 
---
Follow  @yosemitenps on Instagram for up to date, gorgeous pictures.
Bring warm clothes! A hat and gloves (or mittens in my case) do not take up that much space and can be very useful at night, high altitudes and if it gets cloudy (or rainy!).
---
Day 1
---
Getting there
The start of the day wasn't smooth. With two of us having spent a fourth night on a sleeping pad on a hardwood floor, and the other two having to share a single mattress, also on the already cramped floor, everyone had slept pretty badly. Tired and hungry we set off and the late breakfast at Panera bread was saved only by how surprisingly good (as in tasty and good for you) it was. Now I know what all the hoo-ha on the internet is all about! The breakfast gave us enough energy for the excitement to kick in. At least while the scenery was interesting. Winding roads with beautiful views of rolling hills in every direction made me think that this is probably where the famous Windows XP background picture was taken. It looked just like it, complete with perfectly blue skies, interspersed with white, fluffy clouds. After a while the landscape flattened and thus became tedious for a few hours, until the snow-capped peaks of the Sierra Nevadas appeared in the distance. It took almost another hour before we finally started to ascend the mountains in order to get to Yosemite Valley.
We took a chance with the camping arrangement, as only a small number of tent friendly campsites do not require a reservation. The others fill up within the first couple of months of the sites being open to registration, and favourites get fully booked within minutes for the most popular months. Our gamble paid off! Immediately after arriving, E. struck up a conversation with some climbers that were in the process of one last bouldering session before going home. They offered their camping spot and we started to unload the car. This seemed to be pure luck at the time, but I later realised that it's common for people to leave and arrive around lunchtime.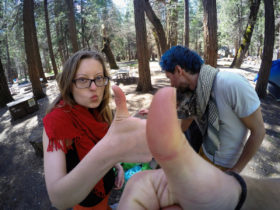 As I carried the last few things to our spot, the guys had already set up the tent, put most of the things there and set about preparing lunch. Now that the practicalities were sorted out, I allowed myself a moment to take in the surroundings. One of the first things I noticed as we arrived at Camp 4 was all of the different bird sounds, most of which I hadn't heard before. But although I looked around and up to the trees, I mostly just saw ravens. Enormous ravens whose croaks and calls added to the deep forest feel and that sometimes flew so low that I would instinctively duck, just in case. The shiny, deep black wings, tinged with a blue hue and enormous wingspan made them even more impressive than I could have imagined. (This was, as far as I could remember, the first time I've seen ravens. At least of this size.) I wish I could say that all was quiet and peaceful, that the birds, the wind in the trees and low murmur of people were the only sounds I heard. Sadly, the road by the camp was quite busy, with a steady stream of people arriving or passing through all day.
---
The hike – ascending
After a substantial lunch (it's amazing how hungry you get from sitting in a car and taking in the views), we carefully packed away all of the food in the big, stationary, metal container allotted our camping spot for precisely this purpose. You could not miss the numerous signs warning against leaving any food in cars, tents or laying around as bears were not unusual in these parts.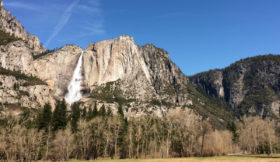 We decided to spend the rest of the afternoon hiking up to Yosemite Falls, the tallest waterfall in North America. The trail only measured about 5 km (3 miles) in distance, but the climb up was intensely steep with an elevation gain of 823 meters (2,700 feet). At the entrance of the park, I had picked up a small information leaflet which stated that, all in all, this was about a six hour hike. We all laughed at this recommendation, saying this must be for the unfit, "lazy Americans".
In the beginning I kept up without any issues but it wasn't long before I started lagging behind. I was hot, thirsty and sweaty and couldn't keep up with the (much fitter) guys' quick strides. There was also a great deal of what I can only describe as traffic, with a lot of people having had the same idea as we did. Queues formed at particularly slim parts of the trail, which only exacerbated the increasingly stressful situation. Several times I felt dizzy and had to stop completely. It wasn't because the path was too steep or because I was too tired. Confused and frustrated, it took me a while to recognise and understand that what I was experiencing was anxiety. Over the last few years I've had my fill of it, but, as usual, I had underestimated how stressful this trip would be in itself. Not to mention the amount of socialisation and plethora of new impressions that comes with being in a new place and a tourist. I had, perhaps foolishly, hoped that a few days in the forest would give me a respite from this, nature having always been a bit of a sanctuary for me. An hour into the hike, it became apparent that this was not the case this time.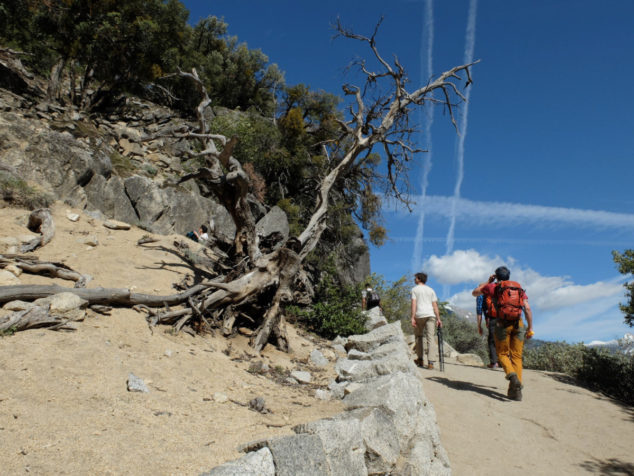 The trail itself went through the forest and was sandy, rocky and well travelled. It had several smaller waterfalls and lookout points on the way up, and higher up the path was flanked by tall granite walls and patches of ice. The guys all took turns, but by the end J. was the one who kindly kept on waiting for/with me the most, and gave me plenty of encouragement so that I could continue. We had probably come 90% of the way, when I felt that neither the dizziness nor the violent beating of my heart would abate. By then we'd been hiking for over two hours, although keeping track of how much time had passed was tough, as I actively didn't want to think about it. Time was a measure of the lack of progress I had made, and how long it would be before we'd be back at camp and I would no longer have to endure this physical and mental ordeal.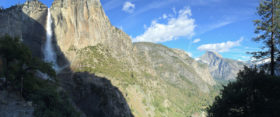 I could see the steep trail ahead of me, the equally steep descend back to the camp, and simply couldn't imagine how I would make it to the top before the sun disappeared behind the mountain ridge. Not to mention hurrying to make it all the way down before it got completely dark. I also wanted to take it easy so that I had the time to see and photograph the details of the surrounding landscape, something I felt everyone else missed in their quest for the top. (Metaphor for life perhaps? Anyone?)
---
The hike – descending
Being very stressed at this point, I desperately tried to keep it together as I told the others that I wouldn't be continuing with them to the top. At first they tried to convince me to carry on, offering me water and another snack, but I was adamant. To my closest friend, I explained in private that it would be best for me to not push any further. Accepting this, he helped in persuading the other two. As I'm quite adept at hiding my emotions, to a certain point at least, I managed to hold the tears back until they finally left.
Feeling like a failure for being so slow and having come so far, yet not all the way, I needed a moment or two to collect myself before descending. The way down felt easier than I expected, and I could finally take my time and calmly photograph everything I wanted. As is the american way, quite a few groups of people stopped to talk with me and make sure I was ok. Hiking alone was definitely not the norm, and out here could even be dangerous.
One of the more memorable encounters was with two guys in camouflage clothing, each carrying a huge backpack. Their plan was to hike to the top and camp further into the forest (outside of the National Park area) for a few days. How they weren't dying from the exertion, I'll never understand. There were those who fared much worse though. One couple kept on slipping and even tripped a few times, probably because they didn't have the best footwear. A middle aged man had sprained his ankle and had to be carried down in a makeshift stretcher by a group of strangers. He hadn't made it all the way to the top either.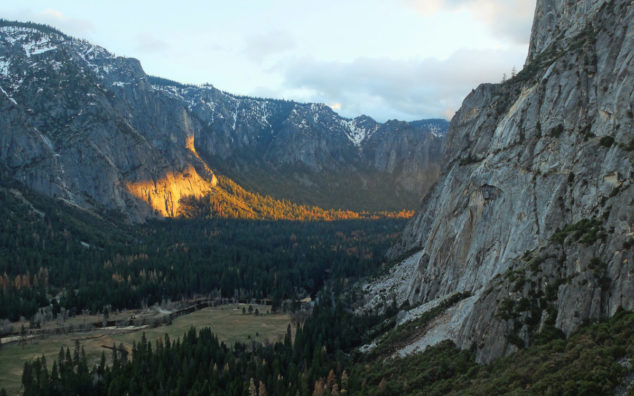 I wanted to make it all the way down before the guys caught up with me, but with the photography and two wrong choices when there was a fork in the trail (I'm famous for my terrible sense of direction), I only got a little further than halfway back. By the time they reached me, I felt better. Walking at my leisure and finding plenty to spark my photographic interest, helped to slowly relieve the stress. Accompanied by J. again, who was now hobbling due to a bad knee that only made itself known once he descended, I made it down just as twilight had turned into night. By this point we had hiked for about five hours and the mental and physical exertion, together with suddenly being hungry, did not make me a happy camper.
---
After
Having first made a beeline for the toilets to wash my hands and quench my thirst, I headed straight for the dinner that was nearly ready. The atmosphere down at the camp was electrifying. Fires everywhere, the faint sound of an acoustic guitar somewhere, indistinguishable voices and laughter coming from every direction. All this in the shadow of the great mountainside, looming over us protectively.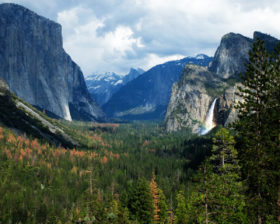 The clear and crisp air was now a smoky haze, but looking up I discovered more stars than I had seen in a long time. Here and there people were shining flashlights and head torches from different angles at boulders as they attempted to scale them. Bouldering at night was definitely a thing here. After the well deserved and (to me, surprisingly) delicious dinner, we huddled by the fire. The heat and sweatiness I felt only a few hours ago felt very distant. We sat and talked for a while but the day left us all shattered so we turned in just after ten. Our camping neighbour was a seasoned Yosemite visitor and the day was rounded off with him playing a lovely, native american sounding, tune as we snuggled down to sleep.
---
Day 2
---
Cold, Warm, and then Cold again
I woke up feeling (again, surprisingly) rested. My worry of not being warm enough during the night was for naught as my sleeping bag and travel sheet kept me very toasty. In fact, the only time I awoke during the night (not uncommon for me) was due to being too warm! Admittedly, sharing a four people tent with three boys might also have had something to do with it. Outside the tent was another matter altogether though. Layering up was essential until the sun's rays reached down into the valley. And I mean long sleeved warm sweater, scarf, hat, mittens, trousers over my leggings and warm socks. A steaming hot cup of coffee was more of a necessity than a luxury.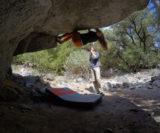 The forecast was yet again predicting a beautifully sunny day. After another glorious breakfast we all decided to boulder and take it easy. J.'s knee was really hurting and I definitely didn't feel like hiking again. My bouldering skills are not great at the moment as I haven't climbed at all in the last six months. But I tried. Chilling out was nice, but I perpetually had the feeling that I should be doing something else than what I was doing, that I was missing out on something better and didn't have enough time. The only thing I could do to deal with these feelings was to breathe deeply and try to enjoy what was, not the possibility of what could be. (Story of my life.) We spent the afternoon by a shallow part of a nearby river. It was most likely melt water off the mountains and therefore gloriously cold. My feet very much appreciated it and two out of my three travel companions actually jumped in! Back at the camp, J. and I began cooking just as the sun was setting.
The temperature was dropping very quickly and I took it upon myself to get a fire going. We had used up most of the pre-chopped wood the night before, so in order to get some more I borrowed an axe from a group of people better equipped than us. Our seasoned Yosemite comrade offered to give me a quick demonstration in how to best chop wood. He made it look so easy (clearly he'd had a lot of practice), that I was surprised that it didn't come as naturally to me and it was much more difficult than I had expected. I also managed to rope our new, four year old, camping neighbour into helping me gather some smaller bits of wood. His face beamed with pride when I challenged him to help me break some thin branches in half and he got a chance to show off, under the watchful eyes of his parents of course.
RANDOM FACT
---
The name "Yosemite" (meaning "killer" in Miwok) originally referred to the name of a rebellious tribe which was driven out of the area (and possibly annihilated) by the Mariposa Battalion. Before then the area was called "Ahwahnee" ("big mouth") by indigenous people.
---
Back to nature
Later on, after dinner and some wine by the fire, I fancied taking a walk away from all the lights and, above all, people. I craved a bit of solitude and to really experience the nature in all it's, relatively unspoiled, glory.
G. came with but protested against continuing further once we got too far away from the main camping area. After much effort on my side to try and assure him that I would be fine by myself, I continued into the darkness, towards the river. As I approached, the usual night sounds were drowned out as the croaks of a whole army of toads reached a deafening crescendo. It was incredibly loud! I tried to see them but I only managed to scare them, away or into silence, with my light. I turned it off, laid down in the dry, high grass and waited for them to come back. The outline of the mountain in front of me was highlighted by a thin veil of clouds. Between these sharp edged, illuminated by moonlight, clouds, patches of black sky and (very) bright stars could be seen.
I laid there for a good while, just soaking it all in, and even had a light snooze as it wasn't that cold. The way back was filled with thorny bushes as I couldn't find the exact path I took to get there. Slightly worse for wear, but happy, I climbed into the tent and slept like a log.
---
Retrospection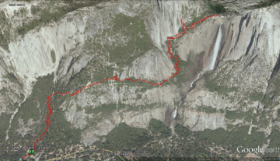 It wasn't until much later, once I had returned home, that it occurred to me that this little excursion at night might have actually been dangerous. Bears, and even the more elusive mountain lions, are after all predators that pose a very small, but very real threat. Especially at night. The reason I never thought about it being dangerous was probably because I was still reasonably close to the camping area, safe in the knowledge that animals prefer to stay far away from the loud and smelly (campfire smoke) humans.    
So what are my final and lasting impressions?
Definitely worth a visit!
---
I would definitely say that this is a must! Nature, fresh air and gorgeous views wherever you look.

Campgrounds for those who wish to be close to nature or hotel and similar is available, but get booked very early in the season. Camping equipment is available for rent at Sports Basement and similar outdoor stores. The price of rental is reasonable and for those with some extra cash, guided tours can be booked at e.g. Sports Basement.

There is a number of hiking trails of varying degrees of difficulty. They are well planned and bikes can be rented for use on specific trails.

Camp 4 offers plenty of bouldering opportunities and of course there is also more advanced climbing for those who have the equipment and experience.

As is common in the U.S., there is plenty of sightseeing to do even if you are not much of a hiker. Quite a few waterfalls and viewpoints are accessible by car, which also makes them wheelchair friendly.
Photos: Dagmara G (except for 1 and 7, which were taken by friends and 8 courtesy of Google Earth)