Identitet och sexualitet är återkommande teman i franska författaren Nina Bouraouis böcker, så även i senaste romanen Om lycka. I den får vi en intensiv inblick i en ung hbtq-persons värld.
Titel: Om lycka
Originaltitel: La vie heureuse
Författare: Nina Bouraoui
Översättare: Maria Björkman
Förlag: Elisabeth Grate Bokförlag
Utgivningsår: 2002 i Frankrike, 2016 i Sverige
ISBN: 978-91-86497-50-7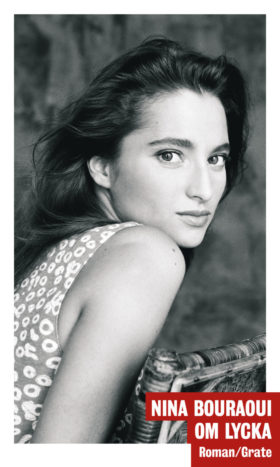 Marie är sexton år. Det är tidigt åttiotal när hon motvilligt lämnar Paris för Zürich. Från radion hörs rapporterna om de första dödsfallen av aids, och favoritmostern Carol är svårt sjuk i cancer. Döden är ständigt närvarande, "vi väntar på den", säger Marie. Nej, Om lycka börjar inte särskilt lyckligt. Vi placeras rätt in i en stum sorg över vad livet inte är eller någonsin kommer bli. Marie är ledsen, ensam och dessutom lite för egen enligt vissa.
Precis som i Bouraouis tidigare böcker tycks omgivningen inte klara av en ung kvinna som har integritet och som utforskar sin identitet och sexualitet. Ramarna för hur en tjej ska vara är ofta mycket snäva, minsta avvikelse måste tämjas på något sätt. Utan att bli tjatig visar Bouraoui återigen vilken inverkan denna trångsynthet kan ha på en människa.
Om lycka sprakar, bultar och svänger fram och tillbaka mellan kvinnlighet, manlighet, kärlek, sorg, liv och död. I korta kapitel och meningar som flämtas fram tar Bouraoui tillvara på laddningen som finns i dessa motsättningar. Med Marie får vi följa förhandlingarna mellan kropp, identitet och sexualitet. Det går från ett krasst konstaterande om att det aldrig känns normalt tillsammans med en kille –"ledan slår till"– och fasa inför åtrån till en tjej, till en ny sorts kraft när hon ger sig hän i förälskelsen:
"Céline häpnar över mitt beteende, denna böjelse. Ingenting böjer sig i mig, allt rätar på sig, allt hänger ihop. Jag är stolt, står i givakt, beredd på angrepp […] Det går över, säger Céline. Och det stämmer inte överens med min kropp. Jag är inte androgyn, säger hon. Jag ser inte ut som en pojkflicka. Jag är populär. Hon förstår inte."
Lyckan finns i frigörelsen av att acceptera sig själv. Marie tror till en början att hon måste vara kille för att kunna älska en tjej, känslorna hade stämt bättre överens då, men sedan vågar hon vara den hon är. Det är en intressant och viktig inblick i hur det kan kännas att vara en ung hbtq-person, särskilt under den tid då aids-epidemin tog fart på allvar. Vilket mod krävdes det inte för att våga gå emot heteronormen? Vilket mod krävs det inte än idag?
Jag blir nästan berusad av att läsa Om lycka. Känslorna är så oerhört intensiva, kärleken så förbrännande. Är det verkligen värt att utsätta sig för detta? frågar jag mig. Och tänker på ett par rader i konstnären Marina Abramovic manifest i boken Akademie X: "An artist should develop an erotic view of point on life […] An artist should be erotic". I ljuset av de orden fungerar Om lycka som en lektion i att leva fullt ut. Erotiskt och passionerat, oavsett kön, vare sig man är konstnär eller inte, och trots riskerna att misslyckas eller förlora.