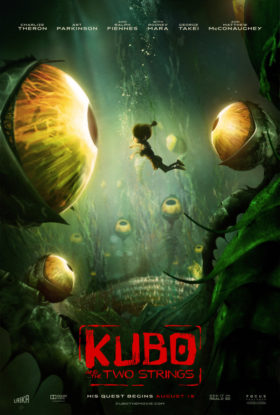 Från skaparna av de dockanimerade filmerna Coraline (2009) och ParaNorman (2012) kom i somras Kubo and the two strings, även den en stop-motion film. Travis Knight debuterar som regissör och ger oss en otroligt vacker film, om än lite långsam till en början.
Filmen handlar om Kubo, en ung historieberättare, som en natt måste ut för att hitta sin pappas magiska rustning, men även för att få reda på saker om sin och sin familjs historia. Detta för att kunna besegra en hämndlysten ande från det förflutna. Filmen är egentligen en klassisk "pojke drar ut på äventyr, får följeslagare och slåss mot the Big Bad"-saga. Men bara att den utspelar sig i Japan – och inte har något med Disney att göra – gör den både annorlunda och sevärd.
Sedan stop-motionbiten! Kubo är värd att se bara för hur snyggt gjord den är. Filmen är lite lång, men hinner aldrig bli tråkig då den både är komisk och innehåller ett par riktigt snygga actionscener.
Musiken är väldigt vacker och avslutningslåten "While My Guitar Gently Weeps" (med Regina Spektor) avrundar historien på ett fint sätt.
Rekommenderas varmt.