Ensamhet är både en smärtsam, subjektiv erfarenhet och ett allvarligt samhällsfenomen som i värsta fall kan leda till döden. Med hjälp av konsten, och med utgångspunkt i New Yorks ständigt vakna gator, undersöker författaren och kritikern Olivia Laing ett djupt laddat ämne i boken Den ensamma staden.
Titel: Den ensamma staden. Om konst, ensamhet och överlevnad.
Originaltitel: The Lonely City. Adventures in the Art of Being Alone.
Författare: Olivia Laing
Genre: Essä, sakprosa
Översättning: Karin Andersson & Sofia Lindelöf
Förlag: Daidalos
Utgivningsår: 2017
ISBN: 9789171735058
Länksamling till verken nämnda i boken: daidalos.se/…
Olivia Laing står framför Nighthawks, Edward Hoppers mest berömda verk som hänger i konstmuseet Whitney i New York. Caféet med sina tre gäster och en servitör – ett urbant akvarium som verkar fungera som både tillflyktsort och alienerande glascell. Är de fångar, instängda och exponerade, eller är de bara ensamma tillsammans? Laing påbörjar sin undersökning om ensamhet här, bland Hoppers bilder. Hon dras till dem som om de innehöll en viktig ledtråd till hennes eget tillstånd av ensamhet, isolering, utsatthet och depression. Genom att gräva i Hoppers historia och sedan fortsätta på samma sätt med en rad andra konstnärer, som Andy Warhol, Valerie Solanas, David Wojnarowicz och Nan Goldin, kommer hon nära roten till det tabutillstånd många helst flyr ifrån. Konstnärerna hon har valt blir fallstudier av livsöden som trasas sönder på grund av bristen av mänsklig närhet och kärlek.
Det är fascinerande läsning, både till innehåll och form. Den ensamma staden är en essäbok som sömlöst binder ihop Laings personliga erfarenhet av ensamhet och isolering med sociologisk forskning och konsthistoria. Hon tar exempelvis upp psykiatern Frieda Fromm-Reichmanns (1889-1957) forskning, som visade att ensamhet är en så skrämmande upplevelse att till och med psykiatriker undvek att ta i ämnet. "Det kan mycket väl vara så att den andra personens empatiska förmåga blockeras av den ångest som den första personens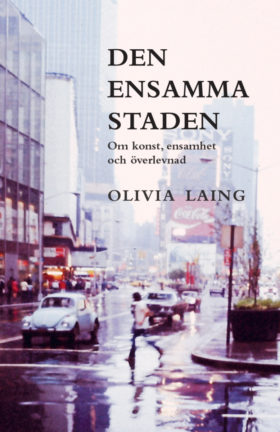 ensamhet utstrålar och framkallar", skrev Fromm-Reichmann. Laing knyter detta till nutida forskning, som visat att ensamhet kan trigga en överdriven vaksamhet för sociala hot. Den berörda personen upplever världen mer negativt och blir mer misstänksam i mötet med andra människor, vilket skapar en ond cirkel där den ensamma blir alltmer isolerad och tillbakadragen. "Ensamheten växer runt dem som mögel eller päls, ett profylaktiskt medel som förhindrar kontakt oavsett hur efterlängtad denna kontakt är. […] Det var därför jag plötsligt var så hyperkänslig mot kritik och hela tiden kände mig utsatt", konstaterar Laing.
Ämnet kanske är så bortstötande att man inte ens vill läsa den här boken. Det vore förståeligt, men också väldigt synd. Laing har gjort ett fantastisk arbete med att ta fram intressanta fakta som är relevanta i en samtid där behovet av närhet allt oftare tillfredställs genom att man går in i virtuella världar. Hon gör det dessutom med litterär höjd, med ett målande och gripande språk om ett ämne som är svårt att handskas med. Laing visar hur sårbara vi människor är, och kanske viktigast av allt, att vi inte är ensamma om att känna oss ensamma.