Intresserad av medeltiden, religiös fanatism, magi och digerdöden? Då är kanske Karen Maitlands nya historiska fantasyroman The Plague Charmer något för dig.
Titel: The Plague Charmer
Författare: Karen Maitland
Förlag: Headline
Utgivningsår: 2016 (2017 i Sverige)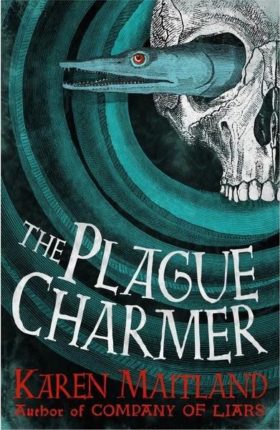 Vi befinner oss i den engelska fiskebyn Porlock Weir. Året är 1361. I en grotta vid havet bor Will, den falska dvärgen, som överlever genom att stjäla grisar från byns religiösa fanatiker Matilda, eller "the Holy Hag" som Will kallar henne. I närheten bor Sara, vars söner hittar en förseglad låda som tillhör havet. Inte långt därefter räddas en mystisk främling från vattnet. Hon varnar för att Svarta Döden är på väg, och säger sig kunna rädda byn. Men det kommer med ett fruktansvärt pris. Kort därefter spolas två döda barn upp på stranden, täckta av svarta bölder. Sara och de andra byborna som rört barnen spärras in av grannarna för att undvika smitta, och snart börjar ett levande helvete. Samtidigt, inte långt från byn, lever Christina i skräck över att hennes nyfödde son ska upptäckas av hennes man som omöjligt kan vara fadern.
The Plague Charmer glöder av inlevelse och berättarglädje. Det märks att Maitland har haft roligt när hon skrivit, och engagemanget smittar av sig på läsaren. I en alldeles lagom kombination av drama, fantasy och historisk realism målas denna saga upp. Det är en spännande berättelse, mörk och ibland på gränsen till grotesk. Författaren blundar inte för otäcka och äckliga detaljer, vilket jag uppskattar. Det ger berättelsen en mörkare och skevare stämning som förstärker fantasyanslaget.
Genom större delen av boken finns ett starkt framåtdriv i både språket och handlingen. I slutet ökar tempot och de många trådarna binds ihop på ett skickligt sätt. En svaghet är dock den parallella historien om Christina, som tar på tok för mycket plats. Jag lyckas aldrig fångas av den historien, utan mitt fokus ligger helhjärtat på Porlock Weir. Jag har också lite svårt att knyta an till karaktärerna. Undantagen är Sara som inspirerar med sitt mod och sin envisa kärlek till sönerna, och Will som lyfter berättelsen med sina iakttagelser och perspektiv:
"My master was a kindly man, as he always reminded us whenever he beat us."
Jag anar att Will har inspirerats av Tyrion i Game of Thrones. Men Will är inte lika cynisk och rapp, utan möter oftast orättvisor och fördomar med ett förvånansvärt stort hjärta.
The Plague Charmer är i grund och botten en berättelse om hur ett litet samhälle försöker hantera en stor kris. Tänk Stephen King, fast 1300-tal. Magin, religionen och karaktärernas förtvivlade försök att överleva och skydda sina nära, sätter en mystisk och desperat stämning som fascinerar och berör. Maitland har definitivt lyckats förmedla de historiska miljöerna; när jag slår igen boken känns det som om jag har varit där. Jag har upplevt digerdödens skoningslöshet och kaos, bybornas panik och sorg, jag vet hur de levde. Men jag har också varit på ett koncentrerat litet fantasyäventyr och fått oroa mig över häxkrafter, försvunna reliker och hysteriska präster. Det är underhållande helt enkelt, vilket är ett gott betyg.