Bioaktuella Sorry To Bother You är en svart komedi med en relevant samtidskommentar. En i allra högsta grad sevärd film som bjuder på både skratt och eftertanke.
I helgen var jag på bio och såg filmen Sorry To Bother You, rapparen och aktivisten Boots Rileys (The Coup) långfilmsdebut. Filmen utspelar sig i en dystopisk samtid, där det populäraste tv-programmet går ut på att folk blir slagna sönder och samman, och företagsjätten Worryfree använder sig av lagligt slaveri i stor skala.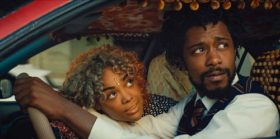 I denna svarta komedi får vi följa huvudpersonen Cassius "Cash" Green på en absurd klassresa. När Cash blir anställd på telemarketingföretaget Reagalview visar det sig snart att han har en särskild talang. En talang som gör att han snabbt stiger i graderna. Hans befordran blir till grund för filmens intrig och moraliska frågeställningar. Cash ställs inför konflikter där han måste välja mellan sin mänsklighet och ideal eller rikedom.
Sorry To Bother You är en film med ett tydligt budskap, och är inte blyg med sin politiska kommentar. Det är upplivande med en film som faktiskt säger något, och bakom allt trams och absurda skämt finns ett isande allvar och en tydlig agenda. Filmen har en samhällskritisk vinkel jag ofta saknar i mainstream-filmer.
Balansen mellan humor och budskap är väl avvägd. Filmen väcker mycket tankar och lyckas, på ett stiligt sätt, att problematisera orättvisor som kapitalistiska system orsakar. Sorry To Bother You känns som en farligt realistisk, om än överdriven, skildring av mycket av det som är ruttet i den fria världen.
Gå och se Sorry To Bother You innan det är försent, det är nämligen en galet bra film.
Trailer finns här