Har du några timmar till övers en tråkig onsdagskväll? Då kan det prisbelönta tv-spelet What Remains of Edith Finch vara något för dig. Det tar två-tre timmar att spela igenom och är både sorgligt och vackert.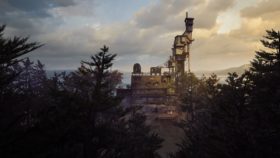 Titel: What Remains of Edith Finch
Ålder: Från 16 år
Format: Playstation 4, PC, XBox One
Pris: från 179 kronor
Utvecklare: Giant Sparrow
Utgivare: Annapurna Pictures
Utgivningsdatum: 25 april 2017
I början får vi se någon sitta på en båt, med en memoar i knäet. Boken har tillhört artonåriga Edith Finch och det är hennes berättelse vi får "läsa". Vi följer med Edith till Orca Island, Washington USA, när hon åker tillbaka till sitt barndomshem. Hon berättar om huset och sin släkt, och hur det kom sig att de bara lämnade allt efter sig en kväll. Berättandet sker genom att vi hör Ediths röst, samtidigt som text uppenbarar sig på väggarna eller i luften. Det är väldigt effektfullt, eftersom det ännu mer känns som om vi är inuti memoaren.
Mer kan jag inte berätta utan att spoila – det här är ett spel som ska upplevas utan att veta allt för mycket. Det är en gripande berättelse, där jag mer än en gång blev helt gråtfärdig. Samtidigt är det ett vackert spel, med bra manus, snygg grafik, stämningsfull musik och väldigt fina scenerier. Och ett otroligt fantasifullt hus, som (oftast) är en fröjd att vandra runt i.
What Remains of Edith Finch kom ut våren 2017 och då hade spelstudion Giant Sparrow jobbat med det i fem år. Vilket märks – spelet är väldigt genomarbetat. Det tillhör genren mysterium och äventyr och är ett drama berättat ur ett förstapersonsperspektiv. Spelet har vunnit priser för bland annat Bästa berättande, Bästa originella äventyr och Bästa spel. Det här är verkligen ett spel värt att kolla upp. Inte för att det är prisbelönt och hyllat, utan för att berättelsen skapar en känsla som följer med en i flera dagar efter att spelet är slut. What Remains of Edith Finch känns i både magen och i hjärtat, och jag rekommenderar det starkt.