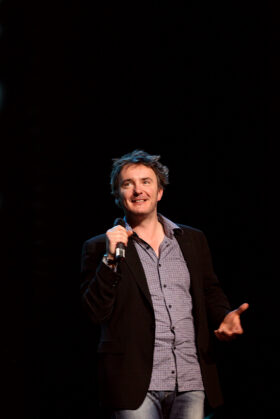 En kort recension av Dylan Morans show Dr Cosmos på Göteborgs Konserthus den fjärde mars 2019.
Dylan Moran (1971-) är en irländsk ståuppkomiker och skådespelare, som bland annat medverkat i långfilmer som Notting Hill och Shaun of the Dead. Men riktigt känd blev han som huvudperson i tv-serien Black Books (2000-2004), som han var med och skapade och skrev tillsammans med Graham Linehan.
Moran började med standup redan som tjugoåring och vann 1993 års So You Think You're Funny-priset på Edinburgh Festivalen. Tre år senare, på samma festival, blev han den yngsta personen att vinna Perrier Comedy Utmärkelsen, bara 24 år gammal. Något han senare påstått vara "a load of media rubbish" och istället ansett att Bill Bailey förtjänade priset.
Jag upptäckte komediserien Black Books 2009, och föll direkt för den råa och oslipade humorn. Dylan Moran spelar Bernard Black, en deprimerad, bitter, alkoholiserad misantrop till kedjerökande bokhandlare. Tillsammans med sin assistent Manny och granne Fran upplever Bernard allehanda absurda situationer, i denna brittiska komediserie. 2016 såg jag Bill Bailey (seriens Manny) på Göteborgs Konserthus. Eller såg och såg – jag ägnade stor del av tiden på golvet under stolarna, på grund av mensvärk. Så jag varken såg eller hörde särskilt mycket. Jag minns något om en orangutang, men det är typ allt. Bill Bailey är i grunden musiker och hans humor är musik- och sångbaserad. Bailey framförde sin show med allsköns instrument och apparater, medan Dylan Moran däremot stod ensam på scenen med sin mikrofon och pappmugg med kaffe. Förr i tiden hade det varit ett glas rödvin och en cigg, men det har han slutat med på grund av hälsoskäl.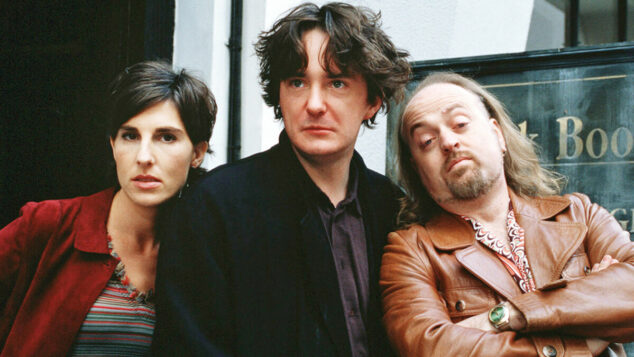 Under den cirka två timmar långa föreställningen pratade Moran om kärlek, folk under 25 år, sig själv och katter. Han drev med oss svenskar, men drev ännu mer med norrmän och tyskar. Och så bashade han på "the orange thing in the White House" – det var roligt! I sin repertoar har han ett skämt om ärtor och bostadsmarknaden, som inte gjorde sig så bra på svenska. Det var inte så många som skrattade, eftersom de inte förstod skämtet och Moran mumlade något som "språkbarriär". Det var flera gånger som jag fick böja mig mot mitt sällskap och fråga "vad sa han?", för även om min engelska är bra, så blir det just språkbarriärer när talaren inte bara är irländsk, utan även pratar snabbt och ibland mumlar. Men detta var inget som drog ner betyget och jag hade en väldigt trevlig och framförallt rolig kväll på Göteborgs Konserthus. 5 av 5 ärtor till Dylan Moran och hans show Dr Cosmos.