Det är torsdag den 15 augusti, alltså mitt i Göteborgs kulturkalas, när jag vandrar genom stan. Mitt slutmål är Brewhouse, där spelningar för sju band ska hållas, arrangerat av kalaset. Bland annat så ska Imagine Iris spela, vilket är ett melodiskt dödsmetalband.
Bandet består av de tre medlemmarna Juha Seurujärvi, som står för sång och gitarr, Calle Ottsjö som sitter bakom trummorna  och Sandra Mattsson som håller i basen och även står för en del av sången.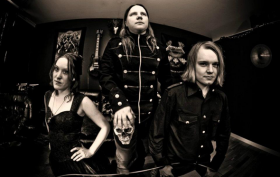 Bandet bildades här i Göteborg 2010 och bestod då av Juha och Calle, Sandra anslöt först 2011 och fulländade trion så som den ser ut idag. Band som influerat gruppen är Devin Townsend, Opeth och Porcupine Tree. Med egna ord beskriver bandet sig så här "Vi går igenom alla livets känslor: kärlek, död och hat, starka känslor och många riff".
Åter till denna torsdagskväll! Tyvärr så kan de sex första banden bara spela i ca 20 minuter, innan den avslutande gruppen Engel ska upp på scenen. När det är Imagine Iris tur är scennärvaron bra, dock tycker jag att det instrumentala kan ta över rent ljudmässigt så att texterna inte riktigt kommer fram som dom förtjänar. Juhas och Sandras stämmor funkar bra ihop, och man känner att det finns en stark sammanhållning mellan alla tre på scenen. Denna afton är det ändå lite speciellt, då gruppen har körsupport.
Blir du nyfiken på hur detta kan låta? I sådana fall tycker jag att du ska kolla in deras skiva "A Tale to be Told" på Spotify.