Minnets starka dragningskraft får oss ständigt att försvinna från nuet, tillbaka till det förflutna.
"Alla minnen är spår av tårar."
Begreppet nostalgi kommer från grekiskans "nostos" vilket betyder hemkomst och "algos" som betyder smärta. Namnets ursprung tyder på att nostalgin någon gång har setts som en plågsam längtan efter att få komma hem, en längtan så stark att den framkallade sjukdom.
Nostalgin, eller det känslomässiga minnet som det ibland kallas, kan beskrivas som en krock av känslor, mängder av känslor som upplevs på en och samma gång. Nostalgin upplevs inte som en egen eller fristående känsla, utan snarare som en minnesbild av de känslor som man har upplevt tidigare i livet, antingen i en del av livet eller vid en specifik tidpunkt.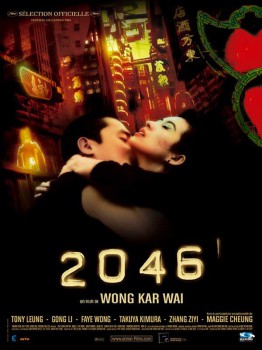 Att vara i ett nostalgisk tillstånd kan beskrivas som att kroppsligen återuppleva känslor som man haft tidigare. Känslor kopplade till den bitterljuva upplevelsen av att dåtiden är förlorad och inte kan återskapas. Därför innefattar nostalgin ofta känslor av sorg och en längtan att återvända till dåtiden.
Tänk om det fanns en plats att återvända i minnen och återuppleva det förflutna.
I kinafödde regissören Wong Kar-Wais film 2046 träffar vi Chow (Tony Leung), personen från den plågsamt vackra kärleksgungande filmen In the mood for love. Några år har gått sedan han för sent förstod att kvinnan han älskade hade lämnat honom. Filmens första scener är från Honkong, 1966. Chow arbetar som skribent på en tidning och jobbar samtidigt på en framtidsroman. Han har ständiga relationer med olika kvinnor för att glömma sin stora kärlek. Romanen börjar under tiden växa fram som en neonskimrande skuggvärld av sorgen efter kvinnan han älskade och förlorade, en sorg som skiner in i filmen medan han skriver boken som en melankolisk framtidsdröm om längtan efter det förflutna.
I Chows bok är hela jorden täckt av ett självlysande järnvägsnät med tåg som ljudlöst glider fram över kontinenterna. Här färdas vilsna människor till 2046. En plats där de kan återuppleva sina förlorade minnen. En plats där ingenting någonsin förändras. Om 2046 är en faktisk plats, en tid eller ett tillstånd i sinnet suddas aldrig fram. Parallella handlingar utan kronologi med sammanlänkande strängar vibrerar som vemodiga stråkar genom varje scen. Tillsammans knyter dessa ihop allting som en dikt du inte riktigt förstår.
Skriver Chow verkligen om framtiden? Kanske lever också vi egentligen bara i ett minne av det förflutna i slowmotion. Kanske är sanningen att det förflutna, nuet och framtiden bara är projicerande illusioner när vi försöker tolka någonting vi inte ska förstå. Time's a tricky bastard.
Filmen är en gungande, vacker, meditativ resa genom ett långsamt eko av intergalaktisk ensamhet som kanske inte helt behöver förstås, bara upplevas.
"If I'd lived in another time or place … my story might have had a very different ending."
Jag är inte nostalgisk nu.