Peter Iwers och Björn Gelotte är kända som två av medlemmarna i det framgångsrika hårdrockbandet In Flames. I den här saftiga boken varvas berättelser om livet som turnerande musiker i ett stort hårdrocksband, med recept från deras privata kokböcker och från menyn på Restaurant 2112.

Titel: Resturant 2112 – A Tale of Meat and Metal
Författare: Mattias Lindeblad
Genre: Kokbok med anekdoter
Förlag: Kalla Kulor Förlag
Utgivningsår: 2014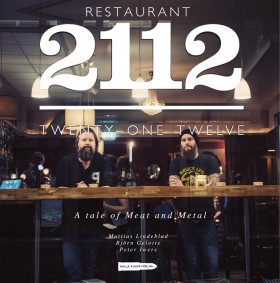 Idén till restaurangen föddes på ett hotellrum i Taiwan, till de berömda orden: "Hur svårt kan det vara?". De orden har de fått äta upp flera gånger, men på 2112 är allt som serveras gott.
Med ett målande språk beskrivs vardagen under turnéerna och den varma vänskapen som uppstår i möten mellan människor. Det är lätt att dra paralleller till det egna kompisgänget. Vi får även stifta bekantskap med Iwers och Gelottes kärlek till mat. Fokus ligger så klart på köttet och gärna måltider som kan ta några timmar att fixa till, men här hittar vi även ett vegetariskt alternativ: "Connys kikärtsburgare med jalapeño-majonnäs och tomatchutney". Recepten ser avancerade ut, men ger samtidigt intrycket att det här fixar du om du bara ger dig själv lite tid och en chans.
Bokens formgivning där alla sidor antingen visar saftiga maträtter eller tatuerade killar med mycket hår ger ett tydligt budskap. Det här handlar om mat, Metal och kärlek, ett rent nöje att läsa!
"Du kommer även att få en inblick i hur det är att åka på turné med oss ur ett matperspektiv, plus en massa upptåg som borde vara preskriberade vid det här laget."

Peter Iwers och Björn Gelotte