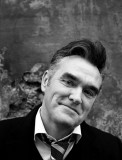 Tre år efter sin senaste Sverigespelning är det i november dags för Morrissey att åter inta Lisebergshallen. Den före detta The Smiths-sångaren släppte under 2013 sin självbiografi Autobiography och är just nu aktuell med sitt tionde studioalbum World Peace Is None Of Your Business.
Konserter kommer även att göras på Sparbanken Arena i Lund den 8 november och Hovet i Stockholm den 13 november. Det blir dessutom en spelning i Köpenhamn den 9 november.
[stextbox id="default_tight"]
När
: Tisdagen den 11 november klockan 19:30.
Var
: Lisebergshallen, Örgrytevägen 5, Göteborg.
Åldersgräns
: 13 år (18 år vid förköp).
Pris
: Från 575kr. Förköp genom
Biljettforum
[/stextbox]