The Hateful Eight handlar om åtta personer som fastnar i en stuga under en snöstorm. Individerna är en blandning av laglösa och laglydiga personer. Men alla har en sak gemensamt; de är hårdingar som inte tar skit ifrån någon. Att det hela utspelar sig i den våldsamma vilda västern gör bara att stämningen blir ännu mer intensiv. Den passionerade regissören och manusförfattaren Quentin Tarantino är känd för sina intensiva dialoger och karaktärer. Han undviker inte heller att visa våld i sina filmer och får ofta kritik för det vårdslösa språket. Detta är därför en perfekt premiss för honom. En sak är i alla fall säkert, som med de flesta filmer han gjort kommer även denna att bli omtalad och hyllad av kritiker och publik. Samt förmodligen bli utsedd till en av årets bästa filmer. Som vanligt när det gäller Tarantino så har filmen en rad stora skådespelare, som till exempel Samuel L Jackson (Pulp fiction, The Avengers) Kurt Russel (The Thing, Escape from New York) och Channing Tatum ( 21 Jump Street, Magic Mike).Tarantino har ännu en gång tagit inspiration till både titel och premiss till den nya filmen från äldre B-filmer. På samma sätt som han också gjorde i till exempel Inglourious Basterds och Django Unchained.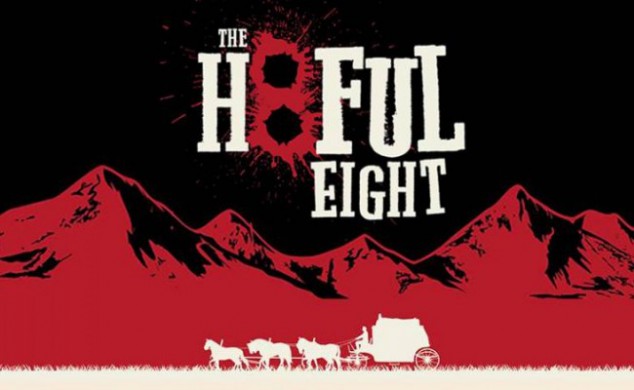 Precis som när dessa två filmer var på väg till biopubliken så kan jag knappt vänta för att få se The Hateful  Eight. Därför blev jag väldigt glad när jag fick höra att filmen kommer att bli gjord, trots att Tarantino tidigare sagt att den inte kommer att bli det. Manuset läckte nämligen på nätet i början av 2014. En arg Quentin Tarantino sade då att han tänkte lägga ned projektet. Han planerade istället att göra om manuset till en novell, men fyra månader senare hade han lugnat ner sig och bestämde sig för att ändå göra filmen. I slutet av januari började filmen spelas in i Colorado. Om allt går som det ska, förväntas den släppas på bio 13 november i USA och förhoppningsvis inte långt efter det även i Sverige.
Född: 1963 i Knoxville, Tennessee, USA.
Tidigare jobb: Som biträde för en videobutik vid namn Video Archives.
Regisserade filmer: Reservoir Dogs(1992) Pulp Fiction(1994) Jackie Brown(1997) Kill Bill Vol.1(2003) Kill Bill Vol.2(2004) Death Proof (2007) Inglourious  Basterds (2009) Django Unchained(2012).